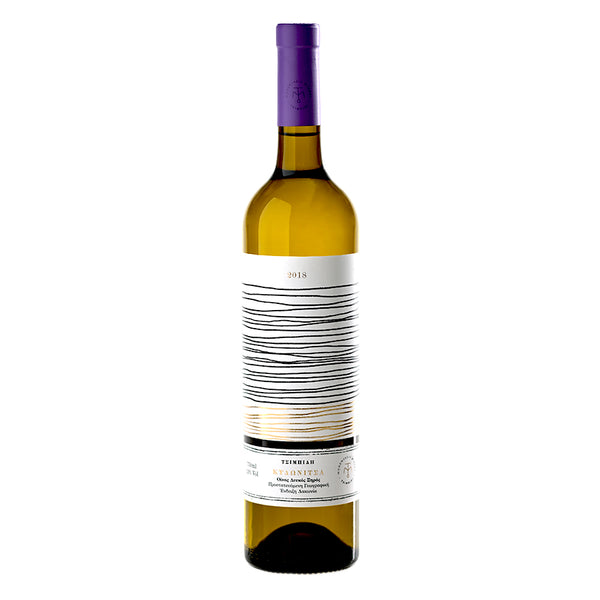 White dry wine
Protected Geographical Indication Laconia 100% Kydonitsa
A rare, indigenous variety of Laconia that has been grown, studied and vinificated with devotion in our organic, minimum intervention vineyards for 15 years. The name Kydonitsa derives from the Greek word "KYAONI" which is quince. The correlation becomes more obvious when someone actually tastes Kydonitsa grapes: the skin of the grape is particularly thick and tannic, leaving your mouth dry, 2018    as biting a quince usually does. The strong character of the fruit is still present on the wine where we detect some delightful quince notes and a tight palate structure.
White vinification in a stainless-steel tank, fermented at a controlled temperature of up to 180 C and maturing for five months on the fine lees with periodic stirring.The aromatic and flavor profile of the wine composes of quince, apple geranium,citrus,passion fruit.  The acidity adds some youthful freshness, while the extended maturation on fine lees adds depth and aging perspective. It is specially combined with grilled fish with savory olive oil and lemon sauce and shellfish.
Served particularly cool at 8-10 oc .
AWARDS
2020
Balkan International Wine Competition, Bulgaria  Kydonitsa 2017 - Double Gold medal
Kydonitsa 2019 - Gold medal
Kydonitsa 2018 - Silver medal
Decanter Magazine - Yannis Karakasis MW's: top 18 alternative Greek whites  Kydonitsa 2018 - 91/100 ßa0110L
100% Blind Tasting "The wines of the world" (A. Larsson), France  Kydonitsa 2019 - 89/100 points
Julia Harding MW, London - Kydonitsa 2018 - 16.5 points
London Wine Competition - Kydonitsa 2018 - 75/100 points
Thessaloniki International Wine Competition - Kidonitsa 2018 & 2019 - Silver medal
Sommeliers Choice Awards - Kydonitsa 2018 - Silver medal
Decanter World Wine Awards, England - Kydonitsa 2019 - Bronze medal (88/100)
Texsom International Wine Competition, USA - Kydonitsa 2018 - Bronze medal
Sommeliers Wine Awards - Kydonitsa 2018 - Commended
2019
Vinistra "The world of Malvasia", Croatia
Kydonitsa 2018 - Gold medal
Balkans International Wine Competition, Bulgaria
Kydonitsa 2015 & 2016 & 2017 - Gold medal
100% Blind Tasting "The wines of the world" (A. Larsson), France -Kydonitsa 2017 - 88/100 points
100% Blind Tasting "Greek Wines" (A. Larson), France
Kydonitsa 2018 - 85/100 points
Kydonitsa 2018 - Gold medal & Trophy
Decanter "Greek white wines to drink this summer", England  Kydonitsa 2017 - 91/100 points
Decanter Asia Wine Awards, Hong-Kong - Kydonitsa 2018 - Bronze medal Texsom International Wine Awards, USA - Kydonitsa 2017 - Bronze medal